IMAGES
IMAGE ZOOM VIEWER CONTROLS
Click to zoom in or click +
Double Click to zoom out or click -
Click | to reset
360 SPIN VIEWER CONTROLS
Click and drag with () to rotate
Click to zoom in or click +
Double Click to zoom out or click -
Click | to reset
IMAGE ZOOM VIEWER CONTROLS
Click to zoom in or click +
Double Click to zoom out or click -
Click | to reset
360 SPIN VIEWER CONTROLS
Click and drag with () to rotate
Click to zoom in or click +
Double Click to zoom out or click -
Click | to reset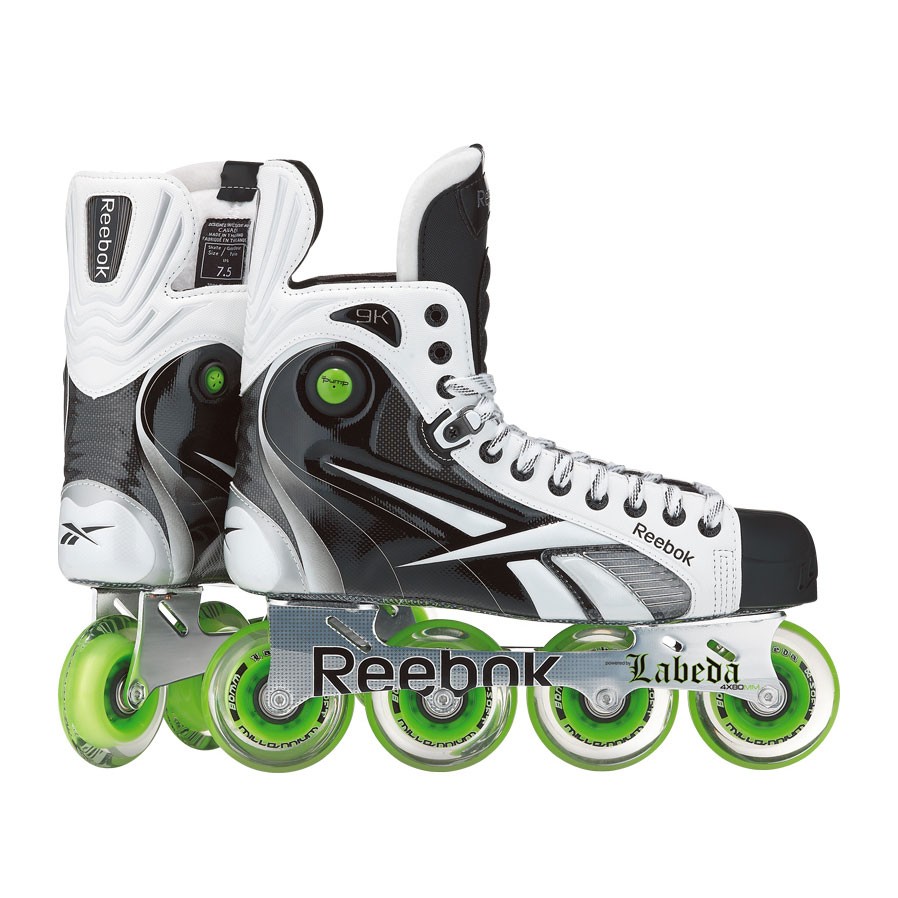 The Reebok 9k Pump Roller Hockey skates are the lightest skates in the Reebok line. Featuring the Pump you get pro performance and personalized comfort in the 9k. Max Armour IV is a lightweight durable quarter that will provide you structure and stability for a more powerful stride. With lace lock you are able to tighten your laces just right and keep them locked in place for the entire game. The outsole of the 9k Pump will keep the skates light and maximize energy transfer that will give you a reactive and responsive feel. A lightweight stiff chassis with 80mm wheel configuration will get you in the fastest skating position and the high durometer urethane core gives you incredible rebound to ensure you get the maximum speed that you desire.




Skill Range:



Global Attributes
Skate Specifications
Skate Type:
Roller Hockey
Skate Closure System:
Traditional Laces
Wheel Configuration:
80mm - 80mm - 80mm - 80mm
Bearing Grade:
Performance
Skate Frame Material:
Performance Composite Materials
Outsole Material:
Composite
Exterior Material:
Max Armour IV
Lining Material:
Ultimate Dry Anti-Microbial Liner
Special Features:
The Pump
Skill Range:

Model Number:
K101SR RH9K D 6.0
Big Game
Indoor Rink
Outdoor Rink
Comments about Reebok 9k Pump Inline Hockey Skates 2012:
I'm a heavier guy around 235lbs with wide feet. I tried on roughly 15 different pairs of skates before deciding to go with these. These skates are very stiff and offer great support. The pump adds some extra ankle padding but is not really needed. It does seem to help keep my foot locked into place however.

I used to skate on custom CCM tact skates. Those of you out there who loved the old tact brand will love this skate.

I also tried on the 11k's. For the price difference you can buy 2 pairs of 9k's for indoor and outdoor use. I never thought I would find a regular inline skate that fit my feet like my old tacts. Very pleased with this purchase after 2 months of skating on them they are holding up very well.

Things I might add are the wheels that come with the 9k are WAY to soft for a heavier guy like myself. They come with 74A wheels. These will chunk up if you play outdoors.

Break in period on these skates was truly amazing. I skated on them once. Had them baked once just to help loosen the boot up just a bit and haven't had a problem since.

Bottom line is if you are a bigger guy with wide feet and looking for a good tough skate. The Reebok 9k and 11k skates are probably your best bet.

I'm only giving these skates a 4 star review because the X-Soft wheels are too soft for heavier guys like myself and required me to purchase new wheels almost immediately.
Comment on this review
Eye catching
Tough
Versatile
Big Game
Indoor Rink
Outdoor Rink
Practice
Comments about Reebok 9k Pump Inline Hockey Skates 2012:
I asked for these skates last X-mas as my old Mission skates were worn out from years of use and I must say just by looking at these skates I knew they would be fantastic and my early review was correct these skates are fantastic. They are super fast, and versatile and eye catching. The only draw-back I found was they were a little heavy. The performance on these skates was fantastic and the Pump is a nice feature and they are comfortable.
Comment on this review
Lightweight
Tough
Versatile
Comments about Reebok 9k Pump Inline Hockey Skates 2012:
I play roller hockey about twice a week, by old skates were mission assaisins that just fell apart on me after 2 seasons. The 9K is a amazing skate espically with the new labeda chassis(80mm x 4, rather then the old tri-die chassis... They are heat moldable, which helps break the skates in
Comment on this review
Frequently Bought Together...