IMAGES
IMAGE ZOOM VIEWER CONTROLS
Click to zoom in or click +
Double Click to zoom out or click -
Click | to reset
360 SPIN VIEWER CONTROLS
Click and drag with () to rotate
Click to zoom in or click +
Double Click to zoom out or click -
Click | to reset
IMAGE ZOOM VIEWER CONTROLS
Click to zoom in or click +
Double Click to zoom out or click -
Click | to reset
360 SPIN VIEWER CONTROLS
Click and drag with () to rotate
Click to zoom in or click +
Double Click to zoom out or click -
Click | to reset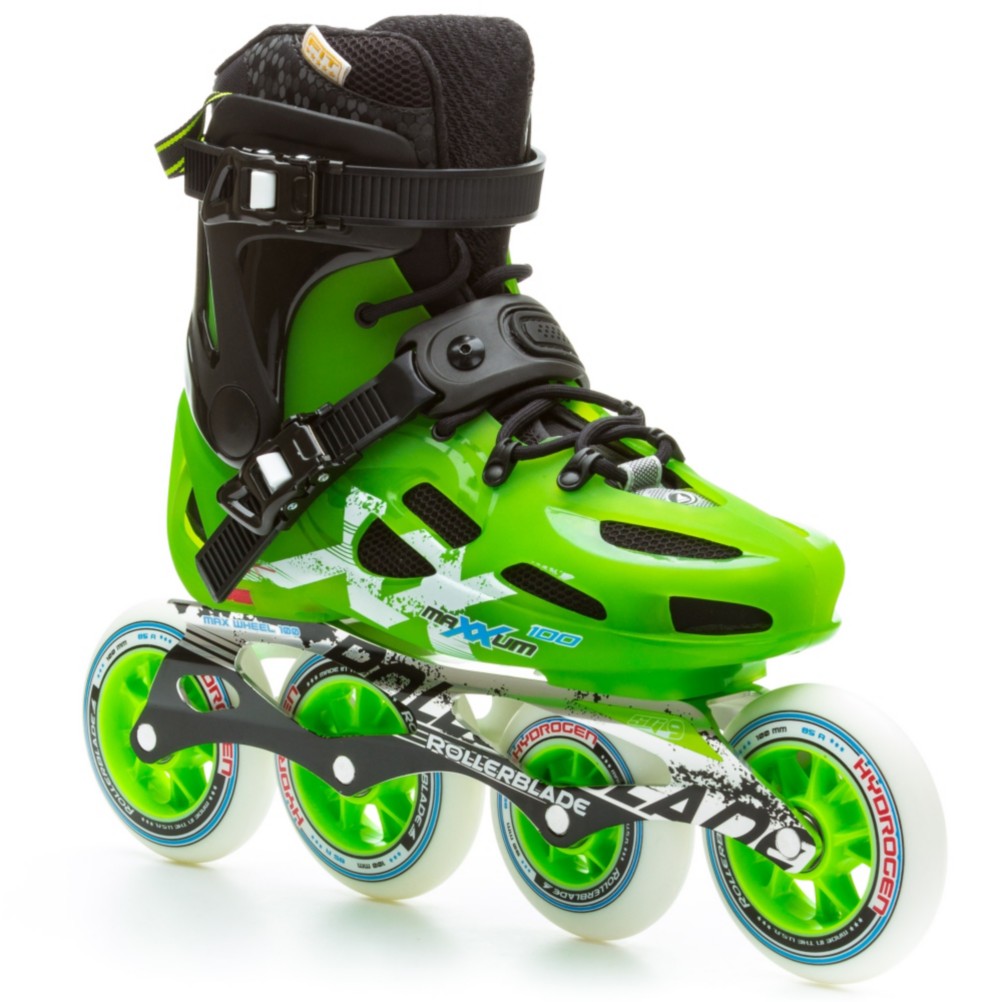 The Rollerblade Maxxum 100 Urban Inline Skates are the ultimate hybrid of urban skates offering a combination of superior lateral support, comfortable padded liners, and a versatile wheel setup that can be used for commuting, cruising, or training. The blend of materials and hardware give The Rollerblade Maxxum 100 Urban Inline Skate the mixture of an outstanding skate that will perform with high performance. The vented, molded hard shell provides plenty of support, paired with Specialized Fit liners that ensure comfort for all activities. The extruded aluminum frame fits 3x100mm and 1x90mm wheels enabling excellent power transfer, stability, and maneuverability. These skates come with the new Rollerblade Hydrogen Wheels that enhance your rolling experience and produce good speed with the Rollerblade SG9 Bearings.




Skill Range:




Standard Lacing
Shock Absorbing Heel
V Cut for Increased Flex and Range of Motion
Laterally Adjustable
45 Degree Micro-Ratchet Adjustable Buckle
Flexible Lightweight Cuffs





Global Attributes
Skate Specifications
Skate Closure System:
Traditional Laces
Closure System:
Micro Adjustable Buckle on Cuff
Maximum Wheel Size:
100mm
Wheel Configuration:
100mm - 90mm - 100mm - 100mm
Bearing Grade:
High Performance
Skate Frame Material:
Metal or Metal Alloy
Frame Material:
Extruded Aluminum Frames
Lining Material:
Specialized Fit Liners
Special Features:
45 Degree Micro-Ratchet Adjustable Buckle
Skill Range:

Model Number:
073670 00 9C5 260
Comments about Rollerblade Maxxum 100 Urban Inline Skates 2014:
Overall, I feel this is a great product. I primarily use this product for excercise so, from a workout standpoint, I don't mind the weight of the skate. However, I also love to play and for fun, I find the design well balanced and it provides more than ample support (Thus the weight). I skate mainly in parks and on highways, the skate exhibits slight vibration but, I still feel the surface contact is solid. Occasionally, the ratchet system "sticks" but, no major problems as yet.
Was this a gift?:
No
Sizing:
Feels true to size
Comment on this review
Do you have questions about this product?
get answers from real customers and in-house experts with AnswerBox.
3 Questions | 3 Answers
Displaying questions 1-3
Q:

Can you use an insole in the boot? Which of your skates if any, can you put an insole in?

Asked on 7/3/2014 by Kevin

1 answer

A:

With the Rollerblade Maxxum 100's, like with all skates, you can insert a custom insole for added comfort. Just remove the factory insole that comes with it and replace it with the new insole and you will be good to go!

Answered on 7/5/2014 by Dru in Customer Care from Bloomfield Hills, MI

Q:

Does this skate have a stopper

Asked on 5/9/2014 by realdeal from Boston, MA

1 answer

A:

Yes, the Rollerblade Maxxum 100 skates will come with a brake in box you can mount to either skate.

Answered on 5/9/2014 by Dru in Customer Care from Bloomfield Hills, MI

Q:

Dear sir or madame,

Can this be used slalom skills and can this be used 80-100mm wheels? Because new one is 90-100mm.

I have a twister 3 which is like a twister 80 but I got this about 8 years ago from corea.

Another question. Compare between Maxxum 100 and

Twister LE which is the best?

Well I like both of it but new one is more attractive.

I look forward to hearing from you.

Sincerely,

Asked on 1/28/2014 by Mir from Marysville, WA

1 answer

A:

The Rollerblade Maxxum 100 offers a maximum wheel size of 100mm and comes with 90mm wheels in the front three spots and a 100mm wheel in the back spots. The wheel configuration is set up for maximum speed and control. You could put smaller wheels on this skate if desired.

Comparing the Twister LE and the Maxxum 100; the Twister LE offers much smaller wheels (topping out at 80mm) and with the smaller wheels the Twister LE will offer a bit more control but won't have as much speed as the Maxxum. Choosing between the two will depend on your skating style and if you desire more speed or control. Both are great skates and built to last and perform.

Answered on 1/31/2014 by Chris from Customer Care
Displaying questions 1-3
Frequently Bought Together...