2015 K2 IL Capo Urban Inline Skate Overview
Mike Powell, Skate Guru from K2 Skates and Rob Gill, of InlineSkates.com, review the 2015 K2 IL Capo Urban Inline Skates.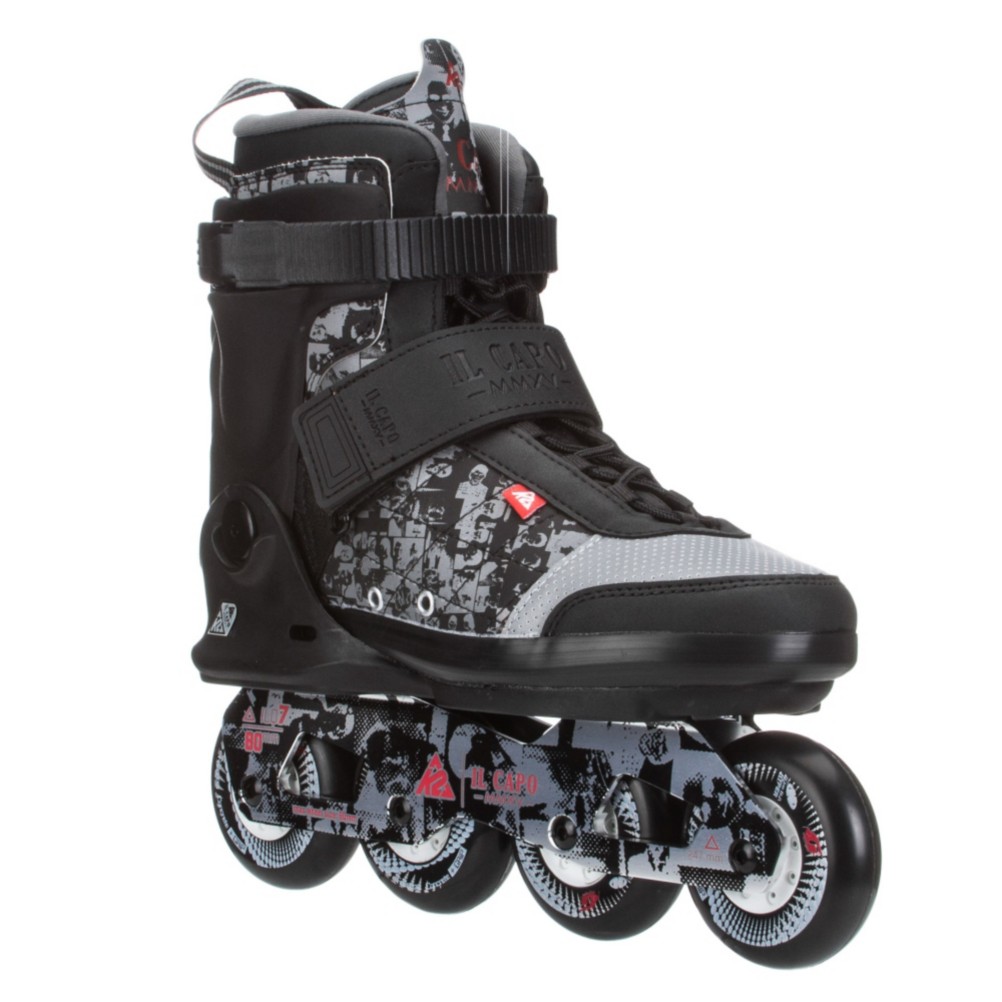 Back to Skate-O-Pedia ?
Transcript of 2015 K2 IL Capo Urban Inline Skate Overview by InlineSkates.com
Hey, welcome to the Daily Spin. I'm Rob from inlineskates.com joined today by Mike from K2. Mike, thanks for being here. Thanks for having me.
So, we're talking about a pretty unique skate in K2's lineup - the Il Capo. Really cool skate. Not really going to see anything else like it in their lineup. What's kind of the first thing that jumps out to you with this skate? Well, like all K2 skates, I think the most important feature is that Original Soft Boot. So, it's a technology that we've created where we build our skates like high performance pieces of footwear and it's going to give you the best fit out there on the market. That's the most important thing. For sure. So, let's talk a little bit about the cuff on this boot. Kind of unique and different from what you're seeing across like in the fitness line and in the training line from K2. Yeah, so this is our aggressive cuff and this skate is a true hybrid so it's parts aggressive, part freestyle and when you put those 2 together you get a really fun skate and it all starts with the high support you get from the aggressive cuff. Definitely. And now moving down on this skate a little bit. The frame and the wheel setup here, again, different than what you're going to see in a fitness style skate. Yeah. I mean this frame is a 247mm frame and that means it's going to be really quick, really maneuverable. It's great for urban types of skating for when you have to just make quick turns if you're skating cones. It's going to do just about anything out there. The only thing you're not going to want to do is skate a marathon in it, but ya know what, I've seen a lot of people do it and they do just fine in these skates.
For sure. And what helps with that, 80mm wheel and then an ILQ7 bearing on this skate. Yeah, so yeah, you get the 80mm wheel which on a skate like this, a burly skate like this that's built to take a beating you usually don't see an 80mm wheel so we've kind of created the best of aggressive, the best of freestyle, put them all together and give you a bearing that's not even found on a lot of race skates - it's that good. For sure. So, now who is the Il Capo for? Ya know, it's for, ya know, it's for that urban type skater, that kid that's going to be skating in the cities. Kid, adult really doesn't matter who. Someone who wants to turn quickly if they're going to be skating cones, ledges, just about anything. And it's also got a UFS compatible frame so, you know, the kid who wants to skate this in the skate park and he also wants to skate the park. He can pop this frame off, put his other K2 frame on there and go shred the park. For sure. That's an awesome feature. It's like having 2, 3, 4, 5 skates all rolled into one. Yeah. Absolutely fantastic. So, the Il Capo from K2, really cool skate in the lineup. Kind of in that urban category. You can check it out on inlineskates.com and thanks for joining us on the Daily Spin.