2015 K2 Raider and Marlee Adjustable Kids Inline Skate Overview
Mike Powell, Skate Guru from K2 Skates and Rob Gill, of InlineSkates.com, review the 2015 K2 Raider and Marlee Adjustable Kids Inline Skates.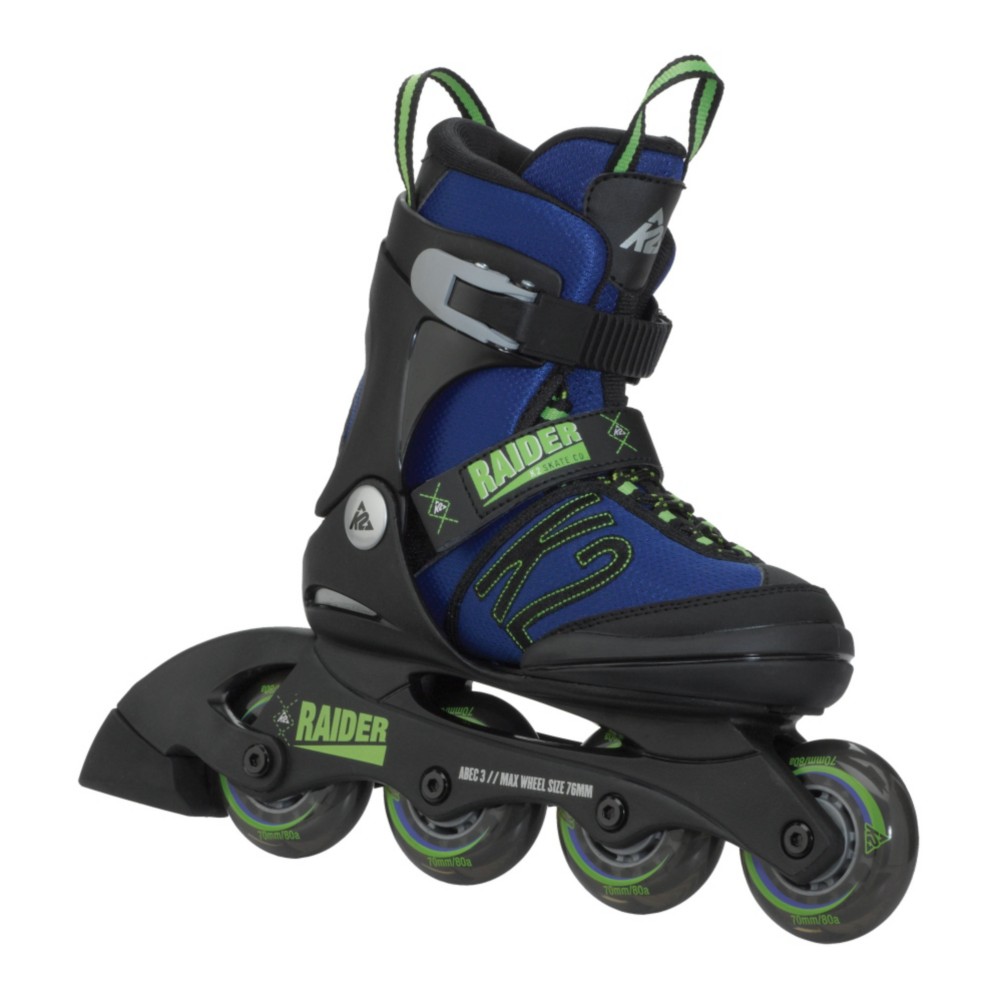 Back to Skate-O-Pedia ?
Transcript of 2015 K2 Raider and Marlee Adjustable Kids Inline Skate Overview by InlineSkates.com
Hey, welcome to the Daily Spin. I'm Rob from inlineskates.com joined today by Mike from K2. Mike, thanks for being here. Hey, thanks for having me.
So, we're talking about the Raider and the Marlee in K2's junior lineup. Kind of that entry-level skate. Really great skate to learn the sport. What's really the first feature for you that jumps out at you? Well, the most important feature to all K2 skates is the Original Soft Boot but it's never more important than with the kid. Because if the kid's not comfortable in their skates, they're not gonna have a good time skating. Absolutely. They're going to complain the whole time so we want to make sure that kids have the most comfortable boot out there to skate in. Absolutely. And now, maybe, and even more important feature for parents is the fact thay the skate's adjustable. Yeah. It is adjustable. It's actually got 5 full sizes of adjustability with the push of a button right here so the skate grows with your child, that means you're not going to have to buy a new pair of skates every year which means the skate's gonna last, your kids gonna learn in one pair of skates and when it's time to upgrade you can truly upgrade to a real adult skate. Definitely, and then a lot of support here too for a new skater. Yep. So, you've got the Stability Plus Cuff and we use that to give the kids the max amount of support so we want them to be great skaters from day one and we know there's a learning curve and it's quick and when you have a nice amount of support, it just quickens that learning curve even more. Absolutely.
So, now moving down the skate, what type of frame do we here? So, we've got a composite frame and for this type of skater, using a composite frame really just enhances the skating experience, sucks up a lot of road vibration, this makes it a smoother feel, and then you combine it with a 70mm wheel and it's just a perfect entry-level skate. Absolutely, so now, who is the Raider and who is the Marlee for? They're for the children. Wu-Tang's for the children, so are the Raider and Marlee. They're for children who are getting out there, new skaters. Parents are going to want to get their kids skating with them and this is the perfect skate to start them out with. Fantastic. So, there you have it. The Raider on the boys side and the Marlee on the girls side. Great entry-level skates for kids learning the sport. You can check them out on inlineskates.com and thanks for joining us on the Daily Spin.