2015 K2 VO2 90 BOA Mens and Womens Inline Skate Overview
Mike Powell, Skate Guru from K2 Skates and Rob Gill, of InlineSkates.com, review the 2015 K2 VO2 90 BOA Mens and Womens Inline Skates.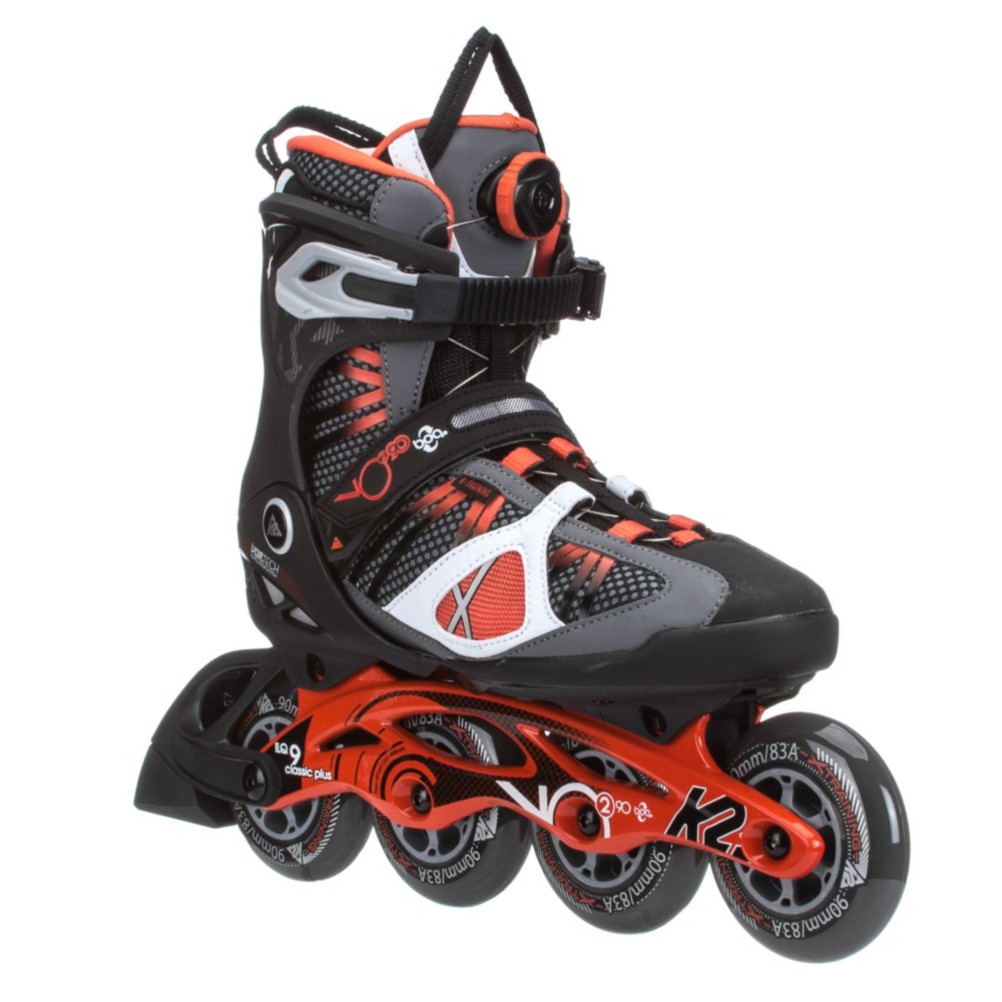 Back to Skate-O-Pedia ?
Transcript of 2015 K2 VO2 90 BOA Mens and Womens Inline Skate Overview by InlineSkates.com
Hey, welcome to the Daily Spin. I'm Rob from inlineskates.com joined today by Mike from K2. Mike, thanks for being here. Thanks for having me, Rob.
So, we're talking about the VO2 90 Boa. Really great skate in K2's fitness lineup. What's the most important featuure on this skate? The most important feature? It's a great question. There's a lot of them. I'm going to have to go with the Original Soft Boot and that's a K2 patented technology. It's really how we build our skates and we build them like a piece of a high performance footwear and, you know, what I always tell people is you try everything on, you'll find that the K2 Soft Boot fits better than any other skate on the market. It really is a phenomenal fitting skate. I absolutely love it. Moving down the list of important features on this skate, the lacing system on it is incredible. Yeah, you've for the Boa Closure System and Boa is by far the best closure system on the market. K2's been working with Boa since 2001. We've integrated them into our inline skates and with the Boa Closure System, what you get is a dial here that you pull out and you're able to get out of your skates and, when you want to tighten them up, click in the dial, twist and you're ready to go. You can shift on the fly at 30 miles an hour. It's easy to do and it just makes everything a lot easier. Absolutely. They're really isn't anything easier. I don't think it can be overstated how easy it is on-and-off with this skate. It's absolutely great. So, moving down the skate, aluminum frame, 90mm wheels and a really nice bearing in it too. Yeah, so the bearing you're talking about is the ILQ9 Classic Plus. It's the only bearing that's been engineered for inline skating specifically and it has bigger balls which actually create less friction and it just makes the skates go a little bit faster. Combine that with a 90mm wheel and a long frame length and you get just a performance machine that really wants to go fast. For sure.
And now this skate is geared for a skater doing longer distances and K2 has put in a ventilation system in it to help keep the skater's feet cool. Yeah, you know, one of the things we found when going out and testing the skates was, we were coming back with sweaty feet. We'd go out and skate for 20 miles, you come back to the office, you've got wet socks and that really wasn't cutting for that kind of skating so we decided we need to put a ventilation system in this skates. We created 7 channels that run the length of the skate, underneath the foot and you have air intakes in the front of your skate, you have exhaust portals in the back. Pretty much when you're skating, the air is going to be forced through the front of the skate, it's going to travel under your foot, it's going to pull that moisture out, it's going to keep your foot nice and dry and it's going to keep you out there skating longer. Fantastic. So, who is this skate for? This is for your more serious skater. This is someone who is using skating as a workout. They're doing it most likely twice a week but it is their primary workout and it's someone who really wants the best of both worlds from a training skate to a fitness skate. When you look at this skate, you get the same supportive cuff as you get on the K2 fitness skates but then you also get the long frame lengths that you'll find on our training skates so you're going to have a lot of speed with a longer frame, a lot of stability with a more supportive cuff. There you have it. The K2 VO2 90 Boa on the women's side and on the men's side. You can check them out on inlineskates.com and thanks for joining us on the Daily Spin.