2015 Rollerblade Fusion X3 Urban Inline Skate Overview
Stephen Charrier, President of Rollerblade USA, and Rob Gill, of InlineSkates.com, review the 2015 Rollerblade Fusion X3 Urban Inline Skates.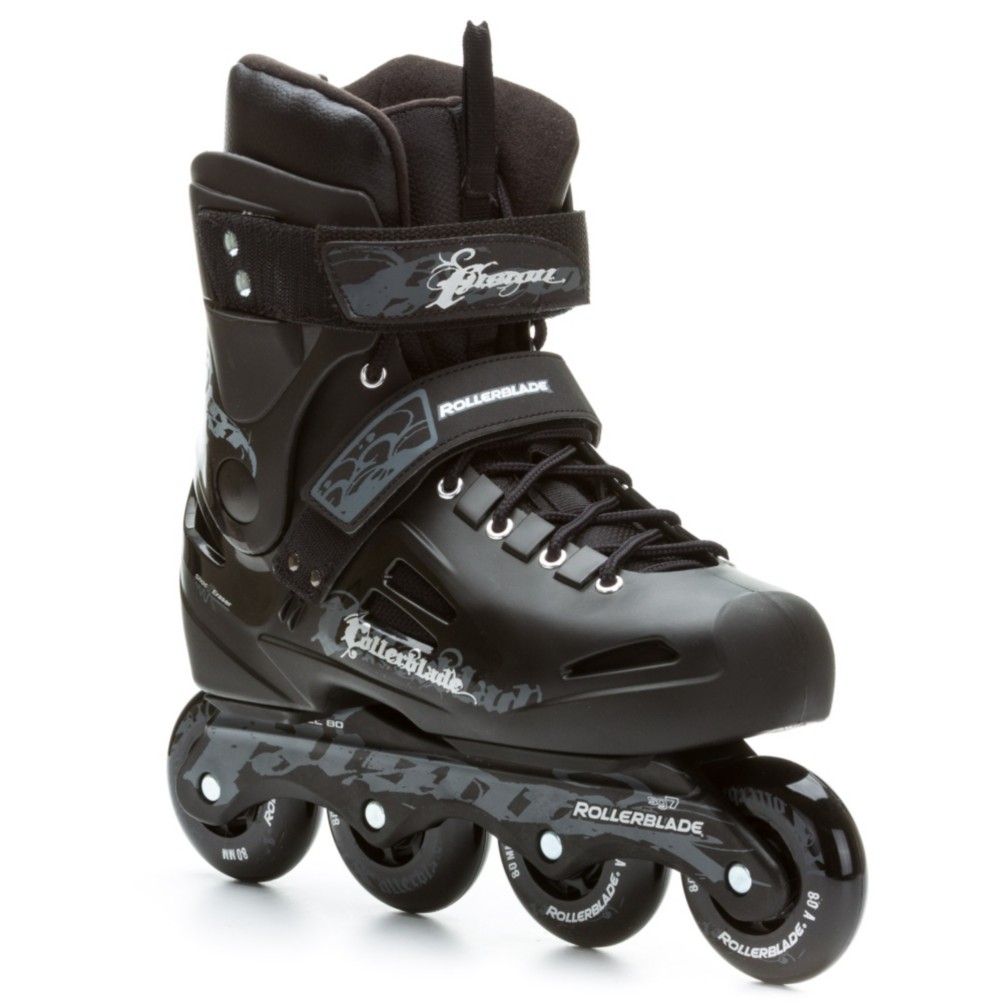 Back to Skate-O-Pedia ?
Transcript of 2015 Rollerblade Fusion X3 Urban Inline Skate Overview by InlineSkates.com
Hey, welcome to the Daily Spin. I'm Rob from inlineskates.com joined today by Steven Cherrier, president of Rollerblade. Steven, thanks for being here. Thank you for having me.
So, we're here with the Fusion X3 and this skate is, I mean, it's back by popular demand really, isn't it? It is actually, yeah. We reintroduced the Fusion X3 so... So, what's kind of the first unique feature of the X3? Well, the X3 is part of our urban molded skate collection. We have Twisters in there and some of the Maxxum skates as well. The thing that's unique about the X3 molded skate - it has a UFS Frame mounting system on it, What that means, UFS is Universal Frame System, it means that you could buy other after-market frames like you could buy one of our blank street frames and you can change the skate out and customize it to different skating techniques. That was a really awesome feature to be able to take one boot and turn it into so many different skates. Yeah, so this is 4 80mm wheels, you could put a street frame, the blank street frame, on here with 55mm wheels and anti-rocker wheels in the center and have a unique street skate basically. Absolutely, and then also maybe putting a larger frame on it and turning it into maybe a performance type skate. Yep, you can put an aluminum 84mm wheel frame on there so, you know, it is, the molded skate is designed for a more urban skating like that. You can see it's vented but it gives you a lot of power transfer like all molded skates it transmits energy really well, transfers energy so...
And then the F.I.T. System on this skate is... It is unique in a way that two Velcro closures - both the top and powerstrap are Velcro. This was done basically, was skater-driven, this change here. A lot of people want the upper part of the skate, the cuff area, to be looser. More of kind of a hockey fit, I should say, so that's why we had put it like that. The skate comes with 4 80mm wheels, it has a urban profile to the wheel, it's a rounder, fuller wheel profile. So, stocked out of the box, it's a very maneuverable skate. It is. It's maneuverable. It has a little bit longer frame, a 260mm frame. compared to Twister for instance with a 243, very short, manevuerable frame so this is somewhere in the middle. Okay, so who would you say the customer is for the Fusion? You know, it's built and intended to be in a urban skate, someone street skating and someone who wants to be able to convert and change it out however, like a Twister, it also is a great skate for almost anyone that wants a 80mm shorter frame wheel experience basically. Perfect. So, there you have it - the Fusion X3 from Rollerblade. Thanks for joining us on the Daily Spin and you can check it out on inlineskates.com.